We have six free teaching packs, which are made up of innovative lesson plans and accompanying materials. You can browse and download them all via the links below.
Due to the closure of the CND office until further notice, we are unable to distribute our materials by post. If you would like to receive our teaching packs at a later date, click here.
Check out our free PowerPoints, lesson plans, printable worksheets and supporting information for teachers below.
We can also come to your school and facilitate the lessons ourselves, so that your students can have a fresh perspective and you can take a bit of a break! Find out more here.
The Bomb Factor
Six cross-curricular lessons on nuclear weapons issues, including an X Factor-style debate competition
Dial M for Missile
Seven cross-curricular lessons to teach themes around the Cuban Missile Crisis and compare and contrast with the world situation today
'…a valuable tool for shaking up the classroom, in which students are not taught what, but how, to think.'  – Read more about 'Dial M' here
Under Pressure
Find out how pressure groups operate and create your own in the classroom
Truman on Trial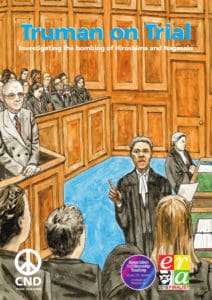 Six cross-curricular lessons around Hiroshima and Nagasaki, including a mock trial to decide if President Truman was justified in dropping the atomic bombs.
** We're very proud to announce that Truman On Trial has just been awarded the Quality Mark of the Association for Citizenship Teaching, recognising it as an outstanding Citizenship education resource! **
Sadako's Cranes
Learn the story of Hiroshima child victim Sadako Sasaki, and make your own origami peace cranes
Critical Mass
5 cross-curricular lessons using examples around the world, looking at gender, identity, marginalisation and race where nuclear issues arise.
Critical Mass 'a resource that enables students to develop a critical consciousness and understand real people's lived experience, identity, diversity and the global issues that impact on us all.' – Independent reviewer, Teach Secondary Magazine
Order a physical copy here, or read our pack overview here.
Teach Peace

We also have an assembly in this new edition of the Peace Education Network's pack for Primary, which offers a rich range of lesson activities exploring peace from the inner and interpersonal levels to the national and global.
Lastly, one of our School Speaker volunteers, Bryan, has created a fantastic FAQ page on his blog, to answer some of the key questions about nuclear weapons in an accessible way. Check it out here.